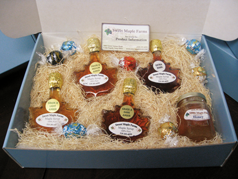 ---
Consider gift items from Sweet Maple Farms for all your special occasions. Our gift boxes are custom-selected based on each customer's request. Unsure of what to select? Let us help you design an assortment for your tastes. Please contact us to get started!
---
Keepsake Gift Boxes
These beautiful, reusable 9″ x 12″ keepsake boxes can hold a variety of our maple leaf glass decanters.
Choose from the following combinations:
Any 3 – 250 ml. leaf decanters = $58.00
Any 4 – 100 ml. leaf decanters = $51.00
Any 4 – 50 ml leaf decanters plus an 8 oz jam, jelly or butter = $44.00
We would also be happy to create a custom box for you.
Sweet Maple Farms (SMF) is committed to environmental stewardship. We only use recyclable glass containers to prevent the adverse effects plastics may have on our products.
We encourage our customers to return clean SMF glass containers for a $1 per container credit toward their next purchase.
For ordering information, please contact us and we will be happy to schedule an appointment to serve you.
Phone: (319) 360-1028
Email: info@sweetmaplefarms.com