Maple Syrup
Our 100% pure maple syrup is available in a variety of sizes from a small 50 ml. maple leaf glass decanter to a 16 oz. jug. We offer four grades: Grade A: light, medium, dark, and extra dark. Grade choice is a matter of personal preference, not quality.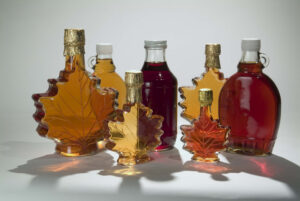 Bottles of Syrup*
8 oz Bottle: $9.50
12 oz Bottle: $12.50
16 oz Bottle: $14.50
Maple Leaf Decanters*
50 ml Decanter: $6.50
100 ml Decanter: $10.50
250 ml Decanter: $16.50
*Larger sizes available upon request
Marinades and Butters
Our Maple products make great marinades and butters.
| | |
| --- | --- |
| Maple Marinade (for meats) | $13.50 (16 oz.) |
| Maple Butter | $12.00 (8 oz.) |
Sweet Maple Farms (SMF) is committed to environmental stewardship. We only use recyclable glass containers to prevent the adverse effects plastics may have on our products.
We encourage our customers to return clean SMF glass containers for a $1 per container credit toward their next purchase.
For ordering information, please contact us and we will be happy to schedule an appointment to serve you.
Phone: (319) 360-1028
Email: info@sweetmaplefarms.com