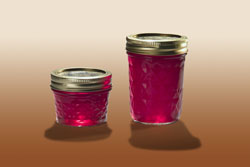 ---
We handpick a variety of delicious berries growing wild on our farm, so they are free of insecticides and herbicides. These wonderful fruit specialties are then made into jams and jellies, butters, syrups, vinegar and vinaigrettes, and whole fruit preserves.
---
Wild Fruit and Berry Product Pricing
Wild Fruits and Berries:
Chokecherry, Wild Black Raspberry, Wild Blackberry, Wild Plum, and Fruit of the Woods. Our Fruit of the Wood is made with 5-7 of the following berries: Chokecherry, Mulberry, Wild Black Raspberry, Wild Blackberry, Wild Elderberry, Wild Gooseberry, and Wild Plum. The mix is unique for every batch.
Vinegar
Jam/Jelly*
Syrups*
12 oz.
4 oz.
8 oz.
8 oz.
12 oz.

$9.75

$5.00

$7.50

$8.00
$11.00
Naturally-Sweetened Butters:
Maple Pumpkin, Maple Rhubarb, Spiced Honey Rhubarb, Maple Wild Plum, Maple Apple Butter
Naturally-Sweetened Butters:
4 oz.

$7.00

8 oz.

$12.00
* 4 oz. jars available for gift baskets and gift boxes
Sweet Maple Farms (SMF) is committed to environmental stewardship. We only use recyclable glass containers to prevent the adverse effects plastics may have on our products.
We encourage our customers to return clean SMF glass containers for a $1 per container credit toward their next purchase.
For ordering information, please contact us and we will be happy to schedule an appointment to serve you.
Phone: (319) 360-1028
Email: info@sweetmaplefarms.com